Prize Finder Bingo Review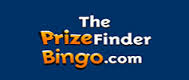 Welcome to The Prize Finder Bingo Review
There is another new kid on the bingo block and it's called, 'The Prize Finder Bingo' and has opened its doors and is ready to rumble in the bingo jungle! And believe me the bingo market is hugely over-crowded, and is not far short of looking like the size of a jungle. The homepage is very colourful and hits you right between the eyes, just as a bingo site should. Especially if you want to stand out from the crowd, and these days this is needed because of the competition out there! Let's look into to this new and exciting bingo site further…
The site was easy to navigate and full of exciting promotions. They claim to find only the best when it comes to UK Top Competitions, so if you love competitions, then you may like this site. Let's face it we all love to be competitive, and it's even better when we win. We think this site has a lot to offer, and we feel by offering competitions, this just might be the one that will bring the crowds into their bingo home.
The Prize Overview
The site is powered by 'Cozy Games' who are known to deliver high quality games, and the ultimate gaming experience. The Prize Finder Bingo site is one of the latest editions to join 'The Live Bingo Network', which means many of the promotions on offer, will be the same or similar to the rest of the bingo sites who are in the same network. Although this one offers something with a difference and that is 'Top UK Competitions' this may well be the tool that will lead them to run a successful site.
The Bingo Games
There is quite a good selection of bingo games available. There are the good old classic types like; 75 ball, 90 ball plus others. We believe that it's good for a site to offer a variety of different types of games. This allows members to explore the games, and be able to play more than one type of bingo variation.
The Games Available
• 90-Ball Bingo
• 80-Ball Bingo
• 75-Ball Bingo
• 50-Ball Bingo
• 30-Ball Bingo
• Casino Games
• Scratch Cards
• Slots
Top Prize Promotions
As soon as you register at Prize Finder Bingo, and leave your debit card details, you will get £10 absolutely free, and no deposit is required. When players make their FIRST deposit of a minimum of £10 or more, they will get a HUGE 500% bonus. Then they get a BIG 350% on their SECOND fund. But the fun doesn't stop there, because members get another large bonus worth 300% on their THIRD deposit too. That's a MASSIVE 1150% on the first three deposits made at this bingo site.
There are also reloads available and these vary depending on the amount deposited. The more you deposit, the bigger bonus but you do have the option not to accept any bonuses. We think the wagering is a little high at Prize Finder Bingo, but if you do win big and meet the wagering rules, then you're in for a real prized treat.
Free Bingo And Cash-Back – Players can enjoy up to 20% back on losses, but you have to claim it by the end of the day on a Sunday, each week. Free bingo is available and players can also win 200% of their last spend in the form of 'Free Bingo Tickets' or bonuses.
Facebook – The community feeling is all around, especially if you head to their Facebook page. PFB have a massive fan page with over 14,000 to be précis, and they play competitions often. At the moment they have a monthly draw running, where players have to tell them their winning stories, all players have to do is to send in a picture, and then their names go into a prize draw. They run these types of competitions loads by the look of their Facebook page, and we found it to be very engaging and interesting.
Go Mobile and Win Prizes
Players can enjoy a good selection of bingo and other games on Android and iOS devices. It's easy to go mobile, all you have to do is type into your browser 'www.theprizefinderbingo.com' and you will soon be playing The Prize Finder Mobile Bingo. Play on the go anywhere, and at any time with The Prize Finder Bingo site.
The Prize Winning Verdict
Overall we think the site looks good and its boldness stands out. It's another LBN network site but with a difference, that being the UK Top Competitions. The site is easy to navigate and registration was pretty straight forward. The amount of games available is good, the bonuses are huge, and even though the wagering is high, and we think that it's still possible to cash out. Even though Prize Finder Bingo is a part of the Live Bingo Network, we like how they are trying to do something different, (The Competitions). We really hope this works out for the bingo site. It certainly looks really good and if players win at this bingo home, then they may have just found their prized bingo home!
The Prize Finder Bingo Quick Recap
The Prize Finder Bingo Exclusives!

£10 Free no deposit
500% Welcome Bonus – Deposits from £10
20% Cashback on losses
Free Bingo

User Rating
Have your say and rate The Prize Finder Bingo